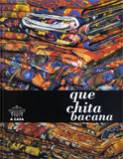 One of the most beautiful books I've ever seen, "Que Chita Bacana" tells the story (in text and marvelous photographs) of the humble Brazilian cotton fabric that's become the darling of interior and fashion designers in that country.
If you ever wondered about the meaning of Brazilian expressions such as "do tamanho de um bonde" and "tomar chá de cadeira," here's a dictionary that tells all. It's a lot of fun also to see how many coloquial expressions originated in soccer...Published by Leya.
We recently saw an exhibition about J. Borges and his family and the art of creating woodcuts at the Museum of Folklore Edison Carneiro in Rio. We brought back this booklet with addresses and contact phones numbers for them; it's now at the Sheila Thomson Collection of Brazilian Culture at Florida International University in Miami, if you should need any additional information.
The museum usually has a wonderful selection of woodcuts from the whole family for sale.

This is the companion book to an exhibition at the Museu do Folclore Edison Carneiro in Rio about the Círio de Nazaré, one of the largest religious gatherings in the world, celebrating Nossa Senhora de Nazaré in Belém do Pará.

"Divino Toque do Maranhão" was the companion book to an exhibition in Rio about the festa do Divino in that state, the women drummers called "caixeiras," who play such an important role in the festivities, and the relationship between this Catholic festival and local Afro-Brazilian cults.
"Árvores Nativas do Brasil" by Cecília Beatriz da Veiga Soares. Rio de Janeiro: Salamandra, 1990. A gorgeous and informative book about a large number of trees native to Brazil. If you're like me and have ever tried to explain to your friends what a cashew really looks like, or how a jaboticaba grows on the tree trunk, this book is definitely for you!
"A Floresta da Tijuca e a Cidade do Rio de Janeiro" with photos by Pedro Oswaldo Cruz and texts by Paulo Bastos Cezar and Rogério Ribeiro de Oliveira. Rio de Janeiro: Editora Nova Fronteira, 1992. Bilingual edition (Portuguese-English). With superb illustrations and magnificent photographs, this meticulously documented history of the massif and forest that surround the Brazilian megalopolis is a must-read for travelers, researchers, or anyone interested in finding out how nature and a modern city can coexist. This book gave me a better understanding of a place I've been deeply in love with for decades.
"Rio Botequim 2000" As the title says these are 50 bars and botequins with a carioca soul. From Leblon to Lapa downtown, the best botequim food, the best chopp (draft beer is as close as I can say it), the best waiters, etc. Published by City Hall! Get yourself a copy and go on a gourmet, architectural, sentimental -- as was my case -- tour of these beloved, traditional Rio feeding/watering holes.
They keep coming up with a new edition every year, of course! If nothing else, it's a great excuse to drink your way (and eat it, too) through these little treasures...Also, look for other books around the same theme!
This is a book about buildings in São Paulo, from nineteenth-century and Art Deco gems to Niemeyer's Bienal creations to sleek metro stations...clearly a labor of love...architecture buffs, do not miss this one!
"100 Anos de Carnaval no Rio de Janeiro" by Haroldo Costa. São Paulo: Irmãos Vitale, 2001. The history of carnaval in Rio from someone who knows it well indeed.
"Arte Barroca, Mostra do Redescobrimento" In 2000 we made the pilgrimage to see the exhibitions in honor of Brazil's 500th anniversary...it was an unforgettable experience, especially considering that I'll not be around for the next big party. I was finally able to get a copy of the Baroque Art catalog...to die for! A lot of this art is in the hands of wealthy, private collectors, so this was really the chance of a lifetime. It's a hefty volume, but try to get a copy somehow, somewhere!
"Dicionário das Mulheres do Brasil" by Schuma Schumaher and Érico Vital Brazil. Rio de Janeiro: Jorge Zahar Editor, 2000. Everything you've always wanted to know about Brazilian women, from the artist Abigail Andrade to the martyr Zuzu Angel (whose son was tortured and killed by the military dictatorship). After years of desperately searching for the truth, she was killed in a mysterious car accident in Rio.
"Mas será o Benedito? Dicionário de provérbios, expressões e ditos populares" by Mario Prata. São Paulo: Editora Globo, 1996. Ever wondered what the origin is of expressions like this one, or perhaps, "água que passarinho não bebe?" You've got to read this book...when the author wasn't able to find the origin of an expression, he simply made it up, with extremely funny results!
"Dicionário de Baianês" by Nivaldo Lariú. Salvador, Bahia, 1992. Self-published and enormously successful dictionary of Bahian-speak...Hilarious! The author is a native of Rio de Janeiro (the state, not the city) who moved to Salvador and a short while later found out that he couldn't understand his own kids, because they had adopted the local slangs and colloquialisms. So, he proceeded to collect them and later decided to publish this little book. It sells like hot cakes in Bahia...A must-have before you go!
"Uma janela em Copacabana" by Luiz Alfredo Garcia-Roza. São Paulo: Companhia das Letras, 2001. The Delegado Espinosa series of detective novels from Rio actually starts with "O silêncio da chuva," followed by "Achados e perdidos" (a good movie, too!) and "Vento sudoeste." I believe the hero is psych professor Garcia-Roza's alter ego (having done Maria-Brazil for 8 years, we have a Ph.D. in alter egos): sensitive, well-read, named after a Spanish philosopher, this policeman from Copacabana spends his weekends trying to figure out what to do with the piles of books in his apartment...great stuff, especially if you're into crime fiction. His latest, "Berenice Procura," features a female taxi driver in Copacabana.
"Bellini e a Esfinge" by Tony Bellotto. São Paulo: Companhia das Letras, 2002. Tony Bellotto spins a great yarn and his P.I. Bellini is a lovable character...don't miss the movie either, because the story takes a completely different turn. Bellotto, guitarist for the rock group Titãs, is also known as actress Malu Mader's husband...The second volume in the series is "Bellini e o Demônio." We also like his "BR 163."