Books and Music

Bossa Nova Fans

Are you a bossa nova fan? Boy, do we have an address for you! Toca do Vinícius in Ipanema is a combination store/performance space dedicated to the works of the poet/lyricist/Jobim's partner and to the bossa nova in general. CDs, books, t-shirts, videos, shows, classes, etc. The store is located at Rua Vinícius de Moraes, 129, smack in the heart of Ipanema. (We wrote this years ago, but owner Carlos Alberto is still enthusiastically helpful, most "simpático," and tremendously helpful with all things relating to Brazilian music.) He now promotes free "rodas de samba" and "rodas de choro" right outside on the sidewalk. A few recent guests: Marcos Sacramento with Silvério Pontes and Zé da Velha...what an enchanting evening!
Making bossa's inverse route, the owners have opened a second store at the Beco das Garrafas in Copacabana where it all started.
Homesick...Can't sleep...Need magazines and postcards...
The newsstand on Rua Visconde de Pirajá in front of the Nossa Senhora da Paz square is open until 11pm. Great place to browse or buy international newspapers and magazines and that postcard for your mother. It's air-conditioned no less...

In Leblon, Banca Piauí still reigns supreme at the corner of Rita Ludolf Street and Avenida Ataulfo de Paiva, right across the street from the best coffeehouse in Rio, Café Cafeína. It has been "adopted" by their namesake, the magazine Piauí...whatever that means. In any case, it's the best magazine in Brazil!
Best Places for Choros (and Samba)

Until recently, I had trouble picking a favorite, because Rio has so many great spots for music, but I took one look and fell in love with Trapiche Gamboa, Rua Sacadura Cabral, 155, Gamboa. Located in a very tall, restored historic building from 1867, in a very old area of Rio—practically next door to the Morro da Conceição—it has super ambience, yummy food, friendly waiters, etc. etc.
In Lapa, the newest addition is Bar da Ladeira, Rua Evaristo da Veiga, 149, in a wonderfully-restored house (built by the nuns that still reside nearby); Beco do Rato is our top choice, at Rua Joaquim Silva, 11, followed by Carioca da Gema, Rua Mem de Sá, 79. On the same street, you'll find Casa Brasil Mestiço and Estrela da Lapa, a gorgeous place, worth a visit for the architecture and renovation alone (but the food is yummy, too)! Centro Cultural Carioca at nearby Praça Tiradentes , Circo Voador...lots of choices. Check the daily papers! Some places, such as Carioca da Gema and Estrela da Lapa, are air-conditioned, which is a plus in Rio's sweltering summers...

Another at the top of our list: Espírito do Chopp at Cobal do Humaitá. Great rodas de choro the first Sunday of the month at 6:30 p.m.
In Copacabana, the ultra-traditional roda de samba at Bip Bip, Rua Almirante Gonçalves, 50, takes place every Sunday from 8 to 11 p.m.

Rio Scenarium, the yellow house on Rua do Lavradio, 20 is a more recent addition to our list. Most papers have online info on all of these great spots. The Paço Imperial museum and the Centro Cultural Banco do Brasil downtown are other options.

In Laranjeiras, there's a free roda de choro called "chorinho na feira" every Saturday at the street market on Rua General Glicério, starting at 11 a.m. You can eat fabulous pastéis, buy your fruit and veggies, and listen to great music. On Sundays, the best bet during the day is to head for Praça São Salvador, where a group of students from the Escola Portátil de Música now holds their own roda de choro.
The winner for best roda de samba with a view is Samba, Luiza, the rodas de samba by master Moacyr Luz and his group Friday evenings at Clube Santa Luzia behind MAM and Vivo Rio, close to Airport Santos Dumont. You can dance the night away, eat tapiocas, and admire the Sugar Loaf all at the same time...
In Botafogo check out Bar do Belmiro for rodas de samba, (see below under places to eat) on Mondays, Tuesdays, Thursdays, and Fridays at 8 p.m.
Arab in Parque dos Patins, Lagoa Rodrigo de Freitas, presents great choro and samba weekly, call 2540-0747 for information. The view from there is to die for: Corcovado Mountain, the lights around the lagoon, and in December, Rio's floating Christmas tree.
Samba no Horto also takes place Friday nights at one of the loveliest spots in Rio, the Clube dos Macacos, all the way up Rua Pacheco Leão, Jardim Botânico. This is a staple of musical Rio, so I don't think it's going anywhere soon...but check the papers anyway. Veja magazine publishes a weekly guide called Veja Rio; O Globo has a Rio Show supplement every Friday; and Jornal do Brasil comes up with Revista Programa also on Fridays. They're all excellent.
Best Places to Learn All This Wonderful Music
Pianist and composer Antonio Adolfo years and years ago had the brilliant idea to start a music school and they has been teaching the second- and third-generations of such musical dynasties as the Jobim and Baden Powell families. If you find that you have time to spare, why not take a samba percussion class (or any other Brazilian rhythm of your choice) or workshops on Brazilian music with the best teachers in Rio? The school will accept youngsters too. It is conveniently located at Rua Almirante Pereira Guimarães, 72 in Leblon; call 2274-8004 or 2239-2975 between the hours of 8 AM and 10 PM and ask to speak with Luisa or José Luis.
And the dance steps too...Head for Jaime Aroxa's Dance Center at Rua São Clemente, 55 in Botafogo next door to the metro station or the school owned by Carlinhos de Jesus at Rua Alvaro Ramos, 11, in the same neighborhood.
Best Music Store
There are many good places to buy CDs, including the bookstores listed below, but we think Modern Sound in Copacabana is the tops! The selection is amazing, their café/restaurant (Allegro Bistro) serves excellent food, and they present free live acts every week. The only problem is...you need to make reservations early! You'll find them at Rua Barata Ribeiro, 502D, call 2548-5005, or ask your hotel front desk/concierge for directions, bus number, etc.
Best Bookstores
The other spot I love for newsies from home is Letras e Expressões, a bookstore/café-bar at Rua Visconde de Pirajá, 276, open 'round the clock. Please note that you have to buy your papers before sitting down with your espresso. Books you can browse at your table, but you must "check-in" with a salesperson first. Café Ubaldo (named after the writer João Ubaldo Ribeiro) on the second floor is also a favorite breakfast spot. Their original one is in Baixo Leblon, at Av. Ataulfo de Paiva, 1292, loja C. Also open around the clock, so if you're looking for a haven in the middle of the night with Internet access...Also in Leblon, livraria Argumento, at Rua Dias Ferreira, 417, has a great selection of books and CDs, a wonderful café, and great free events (DVD launch parties, book signings, etc.).

(Around the corner from these guys, you can have a fabulous garlic and olive oil pizza at Pizzaria Pronto until the wee hours. Ah...Rio! By the way, their competition is down the street: a lot of cariocas swear by Pizzaria Guanabara...it's been there for forty-plus years and it's still a favorite with veterans and the young crowd as well.)

Another great bookstore is Livraria da Travessa, Rua Visconde de Pirajá, 572, Ipanema (one of our favorite places to hang out in Ipanema), Av. Rio Branco, 44 in downtown Rio, and their spanking new superstore in fab Shopping Leblon.
A new addition to our faves list: Armazém Digital in Leblon. It's a combination music/DVD store, café/bar, and digital cinemas. What a sensational idea!
Top of Page
Gone Shopping
Those...argh...souvenirs!
Our favorite souvenirs from Rio are what we call "Corcovado Kitsch," those miniature Christ statues in wood or soapstone, as key rings, plates, etc. We find them irresistible, especially now that the monument has been chosen as one of the new Seven Wonders of the World. You can buy them atop the mountain or at the Sunday market on General Osório Square in Ipanema. We took pictures of our favorites:
Best Artesanato Brasileiro (Brazilian Crafts)
For years, we hoped that Brazilians would "discover" the wealth and beauty of their country's handicrafts...well, it looks like, finally, they did. There are more and more stores these days to buy gorgeous handmade objects from all over. Here are a few addresses in Rio. Check our Music & Folklore Page for shops in other cities.

In Jardim Botânico, O Sol sells wonderful crafts while helping artisans increase their income and lead a better life: Rua Corcovado, 213, 2294-5149.
Brasil & Cia., Rua Maria Quitéria, 27, Ipanema, has a wonderful selection and the best location for tourists, right behind the Caesar Park Hotel.
Other stores: Pé de Boi Artesanato Brasileiro, Rua Ipiranga, 55, Laranjeiras, 2285-4395 and Velho Chico, Rua Visconde de Pirajá, 303, second floor.
Best Brazilian Design and One-of-a-Kind Objects
Daqui, Design Brasileiro, at Av. Ataulfo de Paiva, 1174, loja F in Leblon is our favorite store for really original design...from necklaces woven of copper wire and hung with tiny fabric flowers to superb futon covers and anything in-between. Check them online...you'll flip over the bunny handbag and the purses made from old Japanese fabrics! They also carry several exclusive clothing designers: funky, beautiful and rather expensive, of course!
Best Fabrics (and Carnaval Costumes!)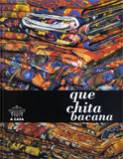 If you would like a few yards of the colorful chita or chitão fabrics to make pillow covers, curtains or anything else that strikes your fancy, pay a visit to the traditional Casas Turuna, Rua Senhor dos Passos, 122/124, downtown Rio. They have a marvelous selection. At carnaval time, this is also your address for great, inexpensive, costumes and accessories.
We also recommend the gorgeous book called Que Chita Bacana.
Best Bikinis
Of course, we have a store for you! We even have a page where you can read about the Brazilian bikini. They're still the top of the line after twelve years: Salinas, smack in the heart of Ipanema — where else? — in the Shopping Ipanema 2000, Rua Anibal de Mendonça, 82 2nd floor. You can enter on Rua Visconde de Pirajá also, since it's a corner building. (We pay for our own purchases!!)
Best Colognes and Soaps
"Que cheirinho bom!," said I, and fell in love with Acqua Fresca from O Boticário, the chain makeup and perfume stores. Available for around $10 dollars/bottle all over the country, in shopping centers and at major airports. Runner-up is Lavanda Pop, also from O Boticário. There are a couple of stores on Rua Visconde de Pirajá, the main shopping street in Ipanema; one at Rua Visconde de Pirajá, 244.

Our other favorite smell is Lavanda Suissa, available for a few dollars a bottle (I'm not kidding, it's that inexpensive) at most drugstores in Rio. I stock up on both every time I'm in Rio and it helps with my "saudades."

For soaps, hand lotions, and such, there's but one address: Granado Pharmácias (spelled just like that...since 1870!), Rua Primeiro de Março, downtown Rio, a block away from the Paço Imperial museum, and Rua Gen. Artigas, 470, in the chic shopping district of Baixo Leblon. Made from all manners of Amazonian fruits, their products smell divine and are good for your skin and hair, too.
Best Handbags
For limited edition handbags, beeline to Daqui Design Brasileiro. If you're looking for a great Rio souvenir, get a funky, hip handbag from a designer called Gilson Martins. I picked up one in turquoise shaped like the Sugar Loaf Mountain a couple of years ago and a cute limited-edition black and white "soccer ball" bag during the World Cup...The store is located at Rua Visconde de Pirajá, 462-B, 2227-6178. The year-in, year-out favorite design is also his trademark: the Brazilian flag coin purse (also available as a handbag, backpack, etc.).
For beautiful, locally-made leather handbags, we choose Uncle K., not too expensive for Brazil; they have several stores in Ipanema, Praia Shopping Botafogo, Barrashopping, dowtown Rio, etc.
Best Cheap Chic Accessories
If you're in Rio on a Sunday, go to the "feira hippie" on Praça Gen. Osório and look for the people selling the funky, fun straw-and-bead bracelets and anklets that wrap and wrap around your arm or the great beaded necklaces, bracelets, and armbands in all the colors of the rainbow. You can find the original design by the Waimiri Atroari tribe of northern Brazil at the Museu do Indio in Botafogo.

One young lady sells adorable t-shirts and bags printed with naïve Rio scenes. Best deal of the fair at the present time! Parceria Carioca (Shopping Forum de Ipanema) and Santa Cor (Shopping da Gávea) are two of our favorite spots for accessories...Or you can buy trendy stuff for next to nothing from street vendors...
Best Jewelry
Besides the famous H. Stern, that is...If you have the bucks, head for Antonio Bernardo (Shopping Forum de Ipanema and Rua Garcia D'Ávila, 121). Bernardo is one of Rio's iconic figures and the godfather of Rio's Orchidarium at the Botanical Garden. Junia Machado has lovely pieces at her new store in Shopping da Gávea.
Best Inexpensive Clothes
The best alternative spots are the vendors located in two buildings in Copacabana, the well-known Santa Clara, 33 and 75, and the stores called Drops de Anis in Ipanema, Rua Visc. de Pirajá, 580, loja D and Leblon, Av. Ataulfo de Paiva, 983, loja A.
Best Tremendously-Chic-But-Reasonably-Priced Clothes
We have become extremely picky and have found nothing that we really can't do without lately. You can try a few stores in Ipanema that are very popular with the younger crowd: Leeloo, Myth, Cantão, and for funky, limited-edition clothing, Farm is currently very hot: Rio Design Leblon and the new "flagship" store on Praça Nossa Senhora da Paz in the heart of Ipanema.
Best One-of-a-Kind Clothes
We've just discovered the Homem de Barro and Ave Maria labels from Minas Gerais at the Quartier Ipanema Gallery, Rua Visconde de Pirajá, 414 on the second floor, a short walk from the American Airlines ticket office (that's how we found out about the store...). Gorgeous, original pieces, and not expensive at all. We also like Miquelina right across from them.
Santas, at Rua José Roberto Macedo Soares, Loja 5A, Gávea, 2259-4695, has an interesting selection, too. The store is right behind the Santos Dumont Square across the street from the Jockey Club.
Best we-wish-we-could-afford her: Designer Isabela Capeto, the darling of Brazilian fashionistas, now has a store in Baixo Leblon, Rua Dias Ferreira, right across the street from the Letras e Expressões bookstore. She has just launched her own fragrance (actually two of them) under the traditional Phebo brand; available at Granado down the street (see Best Soaps and Colognes above for address).
Best Chic-But-Still-Affordable Shoes
If you're carrying euros, that is: Designer Constança Basto has a line/store called Peach at the Rio Design Leblon shopping center; very one-of-a-kind, sophisticated sandals and evening shoes.

For wear and tear, we don't think twice and head straight to Andarella, in Leblon and Ipanema. Elegant and fun, great quality, comfort, and reasonable prices.
Best "Where-Did-You-Get-Those" Shoes?
Via Mia on Rua Aníbal de Mendonça, right next to a restaurant called Doce Delícia and at the Rio Design Shopping in Leblon. They used to sell elegant sandals and lovely flip-flops for the equivalent of twenty-five U.S. dollars that would make you the star of the party! With the dollar taking a plunge, it won't be that inexpensive any longer...oh, well...
Best Antique Shops and Markets

There are many places in Rio for antique lovers: markets downtown and in neighborhoods like Gávea, for instance. Rua do Lavradio in the Lapa section holds its street market the first Saturday of the month; the one in Santos Dumont Square in Gávea is there every weekend...In Copacabana, the Shopping dos Antiquários, Rua Siqueira Campos, 143 is chockfull with antique stores, including two owned by twin brothers Pedro and Paulo Scherer: Snob and Scherer Antiques...if $$ is no obstacle...definitely check them out!

We recently walked down Rua do Lavradio window-shopping (so to speak)...checking out their marvelous street fair (first Saturday of the month). This is one of the nicest stores there. We took a whole bunch of pictures of the old stuff on the street, which is also home to Rio Scenarium, Cachaçaria Mangue Seco, Bar e Restaurante Céu Aberto, and other top-notch music spots...check them out here!
Favorite Shopping Center...(we steer away from mega-malls...)
So far, it's the Shopping da Gávea, rua Marquês de São Vicente...it's manageable as far as size, has a great blend of restaurants, clothing and shoe stores, funky jewelry, crafts and music stores, and gorgeous design stores.

In Leblon, we love Rio Design Center and the new Shopping Center Leblon, too.
Best Kitchen Towels
What on Earth is she talking about, you'd say? Well, if you ever complained about kitchen towels that don't, I mean don't, absorb water when you're trying to dry dishes...we've found the perfect ones! Brazilian kitchen towels made of flour or sugar bags, white as snow and finished with hand-crocheted borders, are sold for one buck at street markets and/or by street vendors almost everywhere in Rio. We bring them back for friends and family every time and guarantee you that they absorb water like a sponge!
Top of Page
Favorite Cultural Spaces
Museums and Cultural Centers
If art, culture and architecture are your cup of tea, Rio has plenty to offer. Not counting the churches, of course. Check out Centro Cultural Banco do Brasil, Rua Primeiro de Março, 66, a majestic old building in downtown Rio, for concerts, shows, art exhibitions and films. They also have a library, a shop, a very good restaurant (great place to have lunch in style, by the way) and a tearoom, I kid you not. Right behind it is the old Customs building and next to it the old Post Office building, which are both exhibition spaces now. Walk through some cobblestone alleys and you will be at the magnificent Paço Imperial Museum. The Museu Nacional de Belas Artes is not very far, neither are the Museu de Arte Moderna, better known as MAM, and the extraordinary Museu Histórico Nacional. Check out our museums photo gallery.

In the Gávea section of Rio, an absolute must-see is the Instituto Moreira Salles, Rua Marquês de São Vicente, 476, 2512-6448. This used to be the private home of the wealthy Moreira Salles family, built in 1950. The gardens are by Roberto Burle Marx—need we say more?—and the architecture is, well, superb. Go and indulge yourself. There are exhibitions, films, classrooms, library, shop and cafeteria. You also get a feeling for what it must have been like to be very rich in Rio in the fifties...not bad at all!

In Botafogo, don't miss the Museu Villa-Lobos and the Museu do Índio, only a block apart. On your way to the Sítio Burle Marx, stop by the Casa do Pontal, Museu de Arte Popular Brasileira, Estrada do Pontal 3295, Recreio dos Bandeirantes, an extraordinary private collection of Brazilian folk art. The Museu Internacional de Art Naïf do Brasil, right next door to the Corcovado Mountain train station, has been temporarily closed for lack of funds...The Museu do Folclore Edison Carneiro is at Rua do Catete, 181, across the street from the Catete metro station (phone: 2285-0441).

If you're up for a trip to the magnificent mountains near Rio, go visit the Museu Imperial and the Museu Santos Dumont in the city of Petrópolis.
Churches (more coming soon)

One of the best walking tours of downtown Rio is to see its magnificent old churches. They're not too far from one another and each one is precious in a different way. They're all magnificent and ornate (I always say that if you are going to worship a Supreme Being you might as well splurge in the decor...and the early citizens of Rio certainly did just that); some are as large as cathedrals and others are small and cozy like this one. The church of Nossa Senhora da Lapa dos Mercadores dates from 1750, and it is located at the corner of Rua do Ouvidor and Travessa do Comércio. You can visit it when you wind your way from the Paço Imperial to the Centro Cultural Banco do Brasil passing under the Arco do Teles. I always make sure I have a little time to spend there, because it's a little gem.
Number One for Plant Lovers
Besides Rio's Botanical Garden, you absolutely must experience Roberto Burle Marx's Home and Gardens in Barra de Guaratiba, about one hour south of Rio. It's paradise!

We're also huge fans of Parque Lage, just down the street from the Botanical Garden. This is where the trail starts that will take you all the way to the top of the Corcovado mountain. It will take you about three hours to walk up there; take water and a snack, leave your watch and jewelry at home (but take a camera, discreetly packed away), and don't go alone...there's safety in numbers here!!
Top of Page
Not on an Empty Stomach...
Best Empadinhas
If you're familiar with Brazilian snacks you'll know what an empadinha is. What you may not know is how many different fillings it can have! Go discover that for yourself at Empada Brasil, Av. Ataulfo de Paiva, 725, Leblon, phone: 2259-1747 or Casa da Empada, Rua Visc. de Pirajá, 605, phone: 2529-8693. Bananas, guava paste, chicken and Catupiry, the list is endless.
Best Breads
Are you looking for the perfect bread? We found it at Escola do Pão in the Lagoa section of Rio, near Rio's Botanical Gardens: Rua General Garzon, 10, Lagoa, phone: 2294-0027. Their restaurant is a great place for dinner and on Sundays they serve an already legendary brunch.
Second best: Talho Capixaba in Leblon and Brasserie Rosário downtown, at Rua do Rosário, 34. They're also a fantastic place to have lunch when you're wandering around that area on a Saturday afternoon...Lunch and dinner also served Monday through Friday.

Best Bahian Food
We are absolutely in love with Yorubá, Rua Arnaldo Quintela, 94, in Botafogo. The food is Bahian with a light, sophisticated touch. Start with the superb acarajés and work your way up to Ebubu Fulô, which consists of fish stewed in coconut milk with fresh and smoked shrimp, served with puré of plantains, taro root and rice. My taste buds thought they were in Heaven and so will yours!
Best Comida Nordestina
You may go to the Feira de São Cristóvão, but that's kind of out of the way...The alternative is to jump on a bus or a taxi and go have lunch at Severyna de Laranjeiras, Rua Ipiranga, 54, where you can dig into carne de sol, baião de dois (beans and rice cooked together), jabá com jerimum (which translates as carne de sol com abóbora), galinha de cabidela (not sure if you want the details on this one), and other northeastern delights. Extremely generous portions, always share with someone. The best Carnaval feijoada with roda de samba we've ever attended, too!
Best Botequim
The so-called "botequins" or "botecos," which are Rio's answer to the French bistro. These are places to hang out with a very cold beer or chope (draft beer) and eat little snacks. Some also serve Brazilian home-style cooking. Botequins are basically divided into "pé sujo," meaning you don't want to look too closely at their kitchen, etc., and patrons aren't necessarily dressed to the nines; and "pé limpo," which are cleaner, fancier versions of the traditional watering hole. Here are some of my favorites (most of these places are institutions and I've been going back for the past 25 years!): in Leblon my vote goes to Jobi at Avenida Ataulfo de Paiva, 1166 near the Antero de Quental Square; The best bolinho de aipim with Catupiry (manioc balls filled with Catupiry cheese and shrimp) we ate was at Bar Bracarense, also in Leblon. While in the area, you may want to try Devassa...they make their own beer! Bar Getúlio is located across the street from the Museu da República in Catete; Bar do Juca is an old one on Rua Mem de Sá, Lapa. Our favorite botequins in Botafogo are Bar do Belmiro on Rua Conde de Irajá and Bar do Adão on Rua Dona Mariana. In Jardim Botânico, Bar Rebouças on chic Rua Maria Angélica is anything but...a few tables on the sidewalk and the friendliest crowd you'll ever meet and good homemade food. The best pastéis so far are at Bar do Adão, Rua Dona Mariana, 81, in Botafogo. We simply adore the bolinhos de bacalhau at Bacalhau do Rei in Gávea.

Out of the way and out of this world is Barbudo, for sure the funkiest bar in Rio, in Pedra de Guaratiba...You'll need a carioca friend to drive you there or to explain to you how to get there on the bus...And on and on...There's a great guide to Rio's botequins that can be picked up at any bookstore. You can eat and drink your way around Rio!
Best Breakfast
Someone in this country should start a tradition of breakfasting with your friends on great breads, ham & cheese slices, papaya and melon slices, and a cup of espresso on a leisurely Saturday morning...How I miss this ritual!!
On top of our list is a cup of espresso with a pão de queijo under a huge mango tree at Café Botânica at the Botanical Garden! They have recently opened a "real" café on Rua Capitão Salomão next to the Cobal do Humaitá market in Botafogo.

Café Cafeína at the corner of Rua Rita Ludolf and Av. Ataulfo de Paiva in Leblon wins the best breakfast in Rio award! Great selection of breads in a lovely basket, generous portions of Minas cheese and servings of honey and jams, juice, papaya, etc. etc. Order one for two people...more than enough food! They have another location in Leblon inside the Rio Design Center.
Garcia & Rodrigues, Avenida Ataulfo de Paiva, 1251 A-B. It's a beautiful and fancy place, very European feel. The decor alone is worth a visit: tiled floors, antique furniture. Fabulous breads and all kinds of wines, kitchen gadgets, and assorted gifts for the home. One of the best places to run into celebrities, if you're into that sort of thing.
Bistrô Escola do Pão is a good, rather expensive, choice in Lagoa; they're at Rua General Garzon, 10, 2294-0027. On the cheap, try having breakfast at a "padaria" or bakery. I love the "café com leite com pão canoa e queijo de Minas" at Rio Lisboa in Leblon. This translates into coffee with milk, French bread toasted with melted white cheese...something like that!
Other restaurants offering breakfast menus are Chaika, and Doce Delícia (see below), Geographic Café, Rua Visconde de Pirajá, 511, and Alessandro & Frederico at the corner of Garcia d'Ávila and Barão da Torre. Armazém do Café at Rua Visconde de Pirajá, 261, Ipanema serves the best coffee in Rio, according to my friend Ligia, who's an expert on these things. They're also in Leblon next to Cafeína.
Best Bets for Chocoholics
We've always loved Kopenhagen, expensive, with several stores around Rio: Shopping Praia Botafogo, Shopping Rio Design Leblon, Ipanema, Copacabana, Barra, etc. Their cherry bombom is the best I've ever tasted.
Another option is Aquim, Av. Ataulfo de Paiva, 1321, Leblon. Also, supermarkets and other specialty stores now sell Belgian and French chocolates...and Nestlé and Hershey's dark, if your purse is more limited.
Best Home-Style Cooking

Some of the best places to eat in Rio - and the rest of Brazil, for that matter - are restaurants that sell food buffet-style by kilo. You help yourself to the food and they weigh your plate at the cash register. They'll do the same with your dessert plate, but on a separate scale.I fell in love with Fellini, Rua General Urquiza, 104, Leblon (it's been voted "Best Buffet in Rio many times"). Fellini's buffet is so fantastic that you'd swear you're eating a la carte...fresh, fresh flavors, organic salads, etc. They keep bringing out fresh platters and bowls of food constantly...nothing just sits there.

Great bolinhos de mandioca com catupiry, excellent black beans, and the best, I mean, the best doce de laranja (pictured here) and quindins! If you like desserts, doce de abóbora (pictured below), merengue de damasco, and ambrosia are also must-tries.

Visit their web site to see live buffet images. Their other claim to fame is that they're the only absolutely non-smoking restaurant around. In Ipanema I always eat at Doce Delícia at Rua Anibal de Mendonça, 55, not far from the Nossa Senhora da Paz Square. The home-style cooking is superb and the desserts are to die for. Their salads are all organic and "create-your-own," which is a plus!
Cariocas also enjoy this chic little café in Baixo Leblon: Ateliê Culinário at Rua Dias Ferreira, 45 - loja A. Bar do Mineiro in Santa Teresa is so funky and special that it got its own page in our site...check it out!
Do you love roast chicken? Here's something different, that we don't have in the U.S. Very young, tiny chicken called galeto, served with French fries or fried polenta, and a very, very cold beer...Our favorite is: Galeto Mania, inside Cobal do Humaitá, Rua Voluntários da Pátria, 148, Botafogo (these guys also win in the chopp category, by the way!). In Ipanema, try Galitos Grill at the corner of Rua Farme de Amoedo and Rua Visconde de Pirajá. In Leblon, Galeto do Leblon on Rua Dias Ferreira has been a neighborhood staple for decades.
In Botafogo, Botequim Bar & Restaurante serves a marvelous menu (Brazilian) at Rua Visconde de Caravelas, 184. Easily the most "simpático" restaurant we found in Rio!
For good German fare, Bar Lagoa is unbeatable (well, Bar Luís downtown is preeetty good, too!)...since 1934. Gorgeous Art Déco details and grumpiest waiters in town...beware! And since we just mentioned them...Bar Luís, which has been on Rua da Carioca since 1887, serves Rio's best chopp, according to local experts.
Meat lovers should head for Esplanada Grill, Rua Barão da Torre, 600, in Ipanema or Porcão (this with a couple of locations in Ipanema and Parque do Flamengo) or the brand new and very sophisticated Giuseppe Grill, Rua Bartolomeu Mitre, 370, Leblon.
For a meal in a garden (in the heart of Ipanema?) that boasts a tiny jaboticaba tree, check out Market Ipanema, Rua Visconde de Pirajá, 499B, www.marketipanema.com.br.
Best Chic Spot for an Afternoon Coffee with Your Best Friend

It must be Eliane Carvalho, the sophisticated boutique/café at Rua Dias Ferreira, 242, loja A in Baixo Leblon, phone: 2540-5438, 2259-4401. Check out the amazing décor, the handmade handbags, gorgeous jewelry, fantastic breads, etc. This is a picture of the café...

And here is a photograph of the boutique side...amazing, isn't it? We spent some time chatting with the owner, Eliane, one afternoon...she's one hell of a lady! Make sure you take your time and poke around...look at every nook and cranny, it's really a beautiful place. They're open Tuesday through Friday, 10am to 8pm; Saturday and Sunday 9:30am to 7pm.
Best All-Time Funky Place to Eat
My favorite place for a sandwich with fruit juice for decades has been Chaika on Rua Visconde de Pirajá next to the Nossa Senhora da Paz Square. Where else in the world could you have a sandwich called Beirute Ipanema made with a very thin steak, melted cheese and fried banana in a pita bread? That to me almost sums up Rio: good food and a great sense of humor. My daughter is madly in love with it. It's inexpensive and open at all hours.
Best So-What-If-It's-a-Tourist-Trap
It's something you've got to do: visit the Garota de Ipanema bar and restaurant and have a beer at this table. Buy a souvenir T-shirt, why not, and toast the great composer! If you guessed that this is where Tom Jobim got his inspiration to write The Girl From Ipanema, you guessed right. It used to be called Bar Veloso and it looked very different in those days. They say a pretty girl walked in to buy cigarettes and the rest is musical history. By the way, even the street has been renamed Rua Vinícius de Morais in honor of Tom's lyricist.
Best Feijoada
There may be others, but none beats the food-with-spectacular-view combination offered by the Caesar Park Hotel high above the beach in Ipanema. I went on a rainy Saturday and wished I could stay the whole afternoon, eating and gazing out the panoramic windows. It's at the top of the list for Rio's gourmets, too. The restaurant is under renovations at the moment.
Another well-known spot in Ipanema is Casa da Feijoada, Rua Prudente de Morais, 10; in Santa Teresa, Bar do Mineiro serves a wonderful feijoada Tuesdays through Sundays. Get there early, it's a very popular spot! In Botafogo, the feijoada-du-jour is at the Cinemathéque on Rua Voluntários da Pátria on Saturday afternoon. Check the newspapers for the feijoada com samba at Portela...an experience you wouldn't want to miss!
Best Fast Food with a View

It's got to be the new Confeitaria Colombo - Café do Forte, inside the Forte de Copacabana (open 10 a.m. to 8 p.m.; closed on Mondays). Check out this view of the famous beach and the Sugar Loaf Mountain...
Best Sweets and Desserts
If you find yourself walking downtown Rio, then don't miss the original Confeitaria Colombo, their gorgeous late nineteenth-century location at Rua Gonçalves Dias, 32/36. The other alternative we like very much is Casa Cavé nearby, at Rua Sete de Setembro, 137. Their specialty are traditional Portuguese sweets...yummy!!!
Visit Doce Delícia and Fellini above for amazing desserts. Also, Petits Fours at Rua Aristides Espínola, 101-D, Leblon. Torta & Cia. inside the Cobal do Humaitá makes the most scrumptious banana pie (Brazilian style, of course).
If you haven't already discovered the famous "bolo de rolo" from Pernambuco (several paper-thin layers of dough rolled up with goiabada), then head for Academia da Cachaça in Leblon (Rua Conde Bernadotte, 26). Their "bolo de rolo" comes directly from Recife and it's supposed to be the best in Brazil; they serve it with a special kind of northeastern cheese, in the traditional Pernambuco style.
In Botafogo, try Cake & Co. at Rua Conde de Irajá, 132. I think they're responsible for an inch or two around my waistline...
Best Fruit Juices
There are great juice bars all over Rio with different fresh fruit juices with exotic, poetic-sounding names like siriguela, taperaba, sapoti, graviola, etc. The options are many, many...Don't forget to drink your coconut water, either on the beach or from vendors on the streets. It's very high on potassium, etc. and it'll keep you hydrated in Rio's ultra-hot and humid summers.
Best Fruit and Other Stuff Ice Creams
Fabulous Sorvete Itália (Brazilian flavors such as cashew, baba de moça, and tapioca) is where we cool down while gaining a few extra pounds now; you'll find them at Av. Visconde de Pirajá, 187 and other locations in Ipanema, and in Leblon, Jardim Botânico, etc. Mil Frutas is another — rather expensive, though — option. You'll find them at Rua Garcia d'Ávila, 134, phone: 2521-1384 and other locations. Flavors vary a lot, but doesn't lychee with sake sound tempting?
Felice Caffè has reopened at their old location in Ipanema, to raving reviews and general delight: Rua Gomes Carneiro, 30, 2522-7749. Theirs is the best pistachio icecream in town.
Sorvete Brasil is inching towards the top of our list; you can find them at Rua Maria Quitéria close to Praça N. S. da Paz in the heart of Ipanema.
Click here, if you'd like to read more about these tropical delights.
And Finally...That Wine Bottle!
If you are like me and can't do without the occasional wine glass (it's good for you, remember?), here are two excellent addresses: Expand Ipanema, Rua Barão da Torre, 358, Ipanema and Espírito do Vinho inside Cobal do Humaitá. This one specializes in Portuguese wines made from local grapes at small, family-owned wineries in the northern regions...not-to-be-missed!